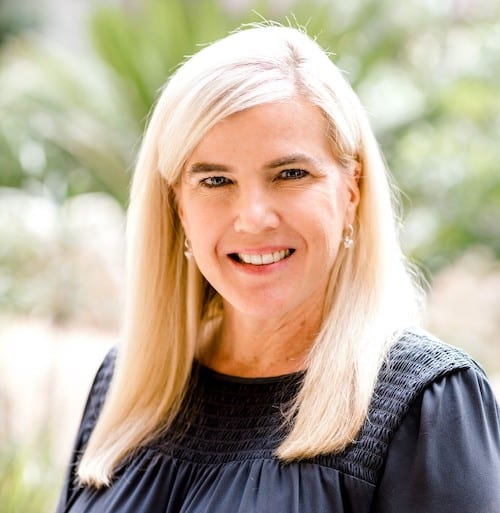 Kim Joyce, GPC
President and CEO
Kim Joyce, GPC (Grant Professional Certified), a native of Phoenix, began her career in education and has been involved with the nonprofit sector as a grant professional, fundraising professional, and volunteer for over 20 years. In 2010, Kim founded her grant writing firm, Kim Joyce & Associates, that provides services in the areas of grant writing, prospect research, grant writing training, grant office assessments, donor cultivation coaching, and nonprofit capacity building.
Kim's clients have included nonprofits providing services in the areas of health and human services, education, at-risk youth, homelessness, healthcare, the arts, charter schools, and faith-based organizations, as well as institutes of higher education, school districts, tribes, and units of local government. Her firm, one of the largest in Arizona, is comprised of highly skilled employees and subcontractors from across the nation and has assisted clients in receiving grant awards of more than $107 million.
Two distinctions set Kim apart from her peers in the industry: she is one of only 17 GPCs in the state of Arizona, and she is one of only 32 GPA Grant Professionals Association (GPA) Approved Trainers in the world. Kim earned her GPC certification through the Grant Professionals Certification Institute (GPCI) and is also a Certified Fund Raising Executive (CFRE) Continuing Education Approved Provider.
Kim is a proud member of GPA – Arizona Founding Chapter, the Alliance of Arizona Nonprofits, the Association of Fundraising Professionals (AFP), the National Grants Management Association (NGMA), and also serves as a Board Member of the GPCI. She enjoys giving back to the community, both personally, and professionally. Kim previously served as the Board Secretary of the GPA – Arizona Founding Chapter and on various local foundation and government review panels, such as Valley of the Sun United Way, the Arizona Criminal Justice Commission, and the City of Phoenix CDBG grant review panel.
After working in the for-profit world of hospitality, banking, and architecture, Laurie Pierce began her nonprofit career at Valle del Sol in Arizona. Now she has 20 years of experience developing proposals for integrated health care, behavioral health, IT health care, health and wellness related family/youth programs, and housing for a variety of federal, state, corporate, and foundation funders. She is passionate about innovative community-based integrated health approaches that show promise. Laurie earned a Bachelor of Science degree in Business Management from the University of Phoenix. She has been involved with the Grant Professionals Association for more than a decade and served locally as Vice President of the Arizona Founding Chapter.
Michelle Thomas has worked in the nonprofit sector for over 20 years. She has held many positions throughout her work history and has an extensive knowledge of grant writing, reporting, database management, and program and quality assurance. Michelle has worked in multiple sectors of the nonprofit world including homelessness, behavioral health, and working with persons with disabilities. She earned a Master's degree in Business Administration from University of Phoenix, and a Bachelor of Arts degree in Family Studies and Human Development from Arizona State University. Michelle also is a graduate of the ASU Lodestar Generation Next Nonprofit Leadership Academy. She is in her sixth year of serving as a Girl Scout Leader, while she also serves on the Board of her daughter's nonprofit dance competition team.
Born and raised in Arizona, Lori Dennehy earned both her Bachelor of Arts and Juris Doctor degrees at Arizona State University, graduating from the Sandra Day O'Connor College of Law in 2008. She became passionate about community building, leadership, and social justice issues through volunteering with Anytown programs for over a decade, and carried that experience into her career. After a few unfulfilling years in law, Lori made an early career change into nonprofit work to pursue those passions. She has since spent the last decade building, managing, and fundraising for community-serving organizations. Dedicated to improving communities throughout Arizona, Lori has a love of learning, language, and logic, making professional writing a natural talent and pleasure.
Lisa Honebrink has spent most of her career writing as a communications manager for health care companies, nonprofits, and government agencies. For 11 years she was a Public Information Officer for the City of Phoenix, including three years as speechwriter and senior assistant for former Phoenix Mayor Phil Gordon. Lisa is a regular contributing writer for PHOENIX magazine and co-authored a book, Phoenix Television, published in 2019. She graduated with a Bachelor of Arts degree in English and Communications from Bemidji State University, including study at Oxford University. Lisa began her career as a radio announcer in Minnesota, before moving to Arizona in 1986. She has volunteered for a wide variety of Arizona nonprofits, currently serving as a Board Member for the Arizona House of Broadcasting Museum since 2013.
Maryann Bloomfield follows her passion for helping great people run great businesses by serving as Operations Manager for Kim Joyce and Associates. Maryann's background includes working in operations for a variety of small businesses, in the areas of architecture, mortgage brokerage, and diversity and inclusion consulting. A third-generation Arizona native, Maryann earned an Associate of Arts degree from Phoenix College, and a Bachelor of Arts degree in Business Management from the University of Phoenix.
We serve clients in Arizona and nationwide!